If you didn't find UK whiner James Blunt annoying already then this should tip the balance.
The 30 something single female office worker favorite has denied Weird Al Yankovic permission to release his parody 'Your Pitiful' on his up coming compilation album. Mediocre AND no sense of humour. Boy this guy is my ultimate dinner party guest.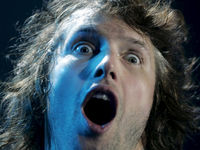 The good thing about this however is, he is prevented from selling it, however he can't stop him giving it away...
Brilliant.
Nab it here: http://tinyurl.com/28z7et
2/365

p&&l

bang!